Kaiser Permanente has pioneered how an integrated care delivery system, with its own specialists and multidisciplinary care teams, can prevent disease and provide high-quality care. Every day, we make a commitment to early detection, cutting-edge research, and superior individualized and evidence-based medical care, delivered with compassion. You'll feel our commitment to excellence every step of your journey.
Chronic care
Having a chronic condition like diabetes, hypertension, or chronic pain does not have to keep you from leading a full and happy life. At Kaiser Permanente, we have a wide range of physicians with deep expertise who work together as an integrated team to treat the most complex chronic conditions.
Neurology care
At Kaiser Permanente, our integrated system is tailor-made, so our Permanente physicians can support patients who have complicated neurological disorders and diseases with multiple symptoms. Our neurologists use the most up-to-date methods and technology to quickly diagnose and treat neurological disorders and diseases and work seamlessly with Permanente primary care physicians and other Permanente specialists to guide patients' treatment.
Pediatric care
From infancy to adulthood, trust your children's care to the team with the dedication and specialized knowledge to put them on the path to a happy, healthy life. As your children embark on the journey of life, the medical team at Kaiser Permanente is equipped to keep their health and development on track.
Cardiac care
At Kaiser Permanente, we believe that treating your cardiac issues shouldn't prevent you from enjoying a full and active life. We have a wide range of cardiac specialists available to treat the most complex heart conditions.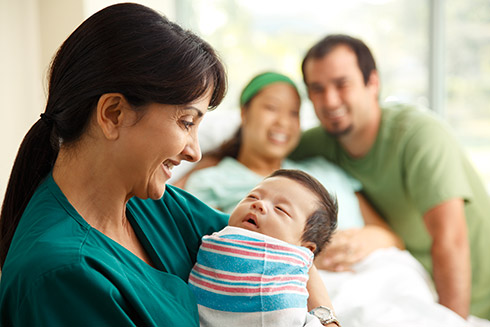 Maternity care
There is no better place to take your pregnancy journey—from first signs to first steps—than Kaiser Permanente. Whether your journey will be smooth sailing or you'll need special care along the way, our skilled doctors and responsive care teams are here for you.
Cancer care
We believe there is no better place to fight cancer than Kaiser Permanente. Our expert doctors and responsive care teams are skilled at a comprehensive range of treatments and can help you make choices about your care that are right for you and your family.
Awards and recognition
Read what others say about Kaiser Permanente.
1
2015 Member Patient Satisfaction Survey where over 100,000 surveys ask members to rate their care including a question rating the "Skills & Ability" of the doctor they saw on a scale of Poor, Fair, Good, Very Good, and Excellent.