Chronic care
No matter what chronic condition you may face, we believe it should be easy for you to get the care you need.
Having a chronic condition like diabetes, hypertension, or chronic pain does not have to keep you from leading a full and happy life. At Kaiser Permanente, we have a wide range of physicians with deep expertise who work together as an integrated team to treat the most complex conditions.  We have developed holistic approaches to chronic conditions that combine state-of-the-art treatments, specialized programs, and ongoing monitoring to help you manage your condition and live your best life.
Detecting a disease or condition and beginning treatment before it advances too far is essential to getting it under control. That's why at every office visit your blood pressure and other vital signs are checked, and you will be encouraged by your Permanente physician to get the routine screenings you need before you leave your appointment.
It's important to remember that most chronic conditions develop over time, and there are steps you can take to prevent the condition or disease from progressing. In many cases, lifestyle changes can keep your condition from becoming life threatening — and our integrated team of physicians, nurses, and other professionals are available to help you along the way.
No matter what health conditions you may face, we believe it should be easy for you to contact your physicians and stay informed. With Kaiser Permanente, not only can you meet with your physicians face-to-face, but also you can connect with your Permanente physicians by phone, secure email, or video.1 Once you register for kp.org, you can check your provider's availability and schedule an appointment, see past visit notes, check most lab and imaging results, send your provider a secure message, or order a prescription that can be mailed directly to your home.
What makes the way we deliver care superb?

37+
Medical centers in the area
Better prevention
If you're at risk of facing a potential health problem — like diabetes, high blood pressure, or persistent pain — we have programs designed to help you before you develop a chronic condition.
Diabetes Prevention Program
In our Diabetes Prevention Program (DPP) pre-diabetic patients have the opportunity over the course of one year to attend classes (in person and virtually) and work with a lifestyle coach, who is a nutritionist. In class, patients learn about dietary changes, behaviors, and physical activity that can allow weight control to be sustainable. Class participants initially meet once a week in the first trimester, every two weeks in the second trimester and once a month in the third trimester. In this way, patients are able to learn and maintain these behaviors over time. The classes follow the Centers for Disease Control and Prevention's (CDC) evidence-based curriculum, which is largely group-based and relies on participation from class members. Participants in our DPP have achieved an average seven percent weight loss, exceeding the CDC's goal of five percent.
Frequent monitoring

When patients come to our medical centers for any appointment their blood pressure is checked, and if they are smokers, they are offered wellness coaching to help them stop smoking.
Wellness coaches
Whether you're trying to manage your weight, quit smoking, exercise more, or reduce stress, getting started and staying motivated can be a challenge. Wellness coaches are available to Kaiser Permanente members over the phone at no charge. Coaching is offered in English and Spanish, and no referral is required.
Pain School

Suffering from chronic pain can be debilitating and negatively impact a person's ability to function. Chronic pain can even cause depression and potentially result in drug abuse and suicide. To help patients manage chronic pain, we have developed a program called the Pain School, which uses cognitive behavioral therapy to help patients learn to reframe negative thoughts and experiences before they lead to devastating outcomes. Patients with chronic pain can be referred by their primary care physicians to pain specialists who can enroll them in the program. Once in the Pain School, patients work with psychologists in a classroom setting. Whether a patient has been suffering from long-term chronic pain or has just recently developed chronic pain, the cognitive behavioral therapy provided in our Pain School has been shown to help diminish pain interference, opioid overuse, and suicide rates over time.
We are also developing an online version of the Pain School to improve access to this valuable information while patients are working with their primary care physicians or pain specialists. This Virtual Pain School, scheduled to open in spring 2021, will offer live online pain classes and provide an online library of short videos, relaxation aids, guided meditations, mindfulness instruction, "Explain Pain" education, and other resources.
Better detection
Detecting chronic conditions can begin at any point of care, but screening early is key to catching diabetes, hypertension, and other diseases and conditions when they can be treated and managed through ongoing monitoring and assessments. Our members have their vital signs, including blood pressure, heart rate, and body weight, checked at each visit. Patients who have risk factors for diabetes are screened for that disease and can easily have an A1c test to check their blood sugar levels at any of our medical centers' labs.
Routine screenings
Members' vital signs are checked at each office visit and members who are considered at risk for diabetes are screened for prediabetes or type 2 diabetes. Risk factors for diabetes include being age 45 or older and overweight, with a body mass index (BMI) higher than 25, or women with a history of gestational diabetes.2 Other warning signs can include excessive thirst or urination, blurry vision, or unintended weight loss. Your ophthalmologist or clinical assistant can perform diabetic retinal screenings, and any physician can order laboratory tests to have your A1c (blood sugar levels) checked. Your results will be available quickly on kp.org.
Integrated system
In our integrated system, primary care physicians and nurses can refer patients to our Diabetes Prevention Program (DPP) if they feel a patient is at risk for developing diabetes. Physicians and nurses monitor patients' fasting glucose/A1C numbers, as well as their BMIs. Patients with fasting glucose levels between 110 and 125 or an A1C between 5.7 or 6.4, a BMI over 25 (or over 23 if Asian), no prior history of diabetes or end stage renal disease, and are not currently pregnant may be referred to the DPP, as well as other lifestyle classes developed to help people prevent or manage diabetes.
Frequent monitoring

When patients come to our medical centers for any appointment, their blood pressure is checked. And if they are smokers, they are offered wellness coaching to help them stop smoking. Members who have high blood pressure can also be enrolled in our remote monitoring program so they can check their blood pressure from home and send updates to their medical record for a quick review by their care team.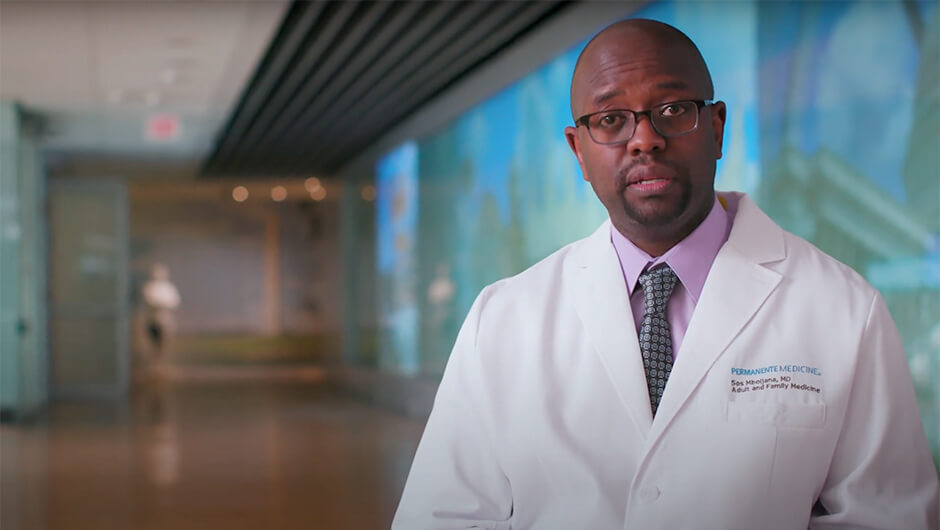 Meet Sos Mboijana, MD, a Permanente primary care physician, and discover how Kaiser Permanente uses remote monitoring to manage chronic diseases.
Integrated system

When our primary care physicians discover patients with chronic pain who have risk factors that can lead to a greater chance of illness or death, they refer those patients to our pain specialists. If a primary care physician, for example, finds out a patient who is new to Kaiser Permanente is on a dangerous mix of medicines like opioids and benzodiazepines (panic/anxiety medications), the physician will refer that patient to a pain specialist since those patients have a very high chance of unintentional or accidental overdose even if they've been on either substance for many years.
Our physicians will refer any patients with chronic pain who also have any of the following risk factors to our pain specialists:
High-dose opioids and "sustained release" formulations
Opioids (pain) plus benzodiazepines (panic/anxiety)
History of or current illicit drug abuse (addiction)
Comorbid psychiatric illness (including personality disorders)
History of suicidality
History of drug overdose
Adults over 65 years old
Complex medical problems (especially pulmonary, cardiac, hepatic, or renal)
Use of methadone for pain
Overall health assessments

To find out where a patient is most likely to experience chronic pain and why, our pain specialists do a comprehensive medical evaluation that includes extensive lab testing, diagnostic imaging and other specialized tests to find the physical causes and results of the pain and look for any indications of opiate use or substance use. Chronic pain is an experience as well as a physical sensation, so we assess the areas of a patient's life most affected by chronic pain. A "bio-psycho-social" assessment of every patient helps to see how pain affects a patient's ability to function and pursue the things they value in life. We pay close attention to the psychological health and resilience of those with pain to reduce suffering. We also recognize the socio-economic impacts of pain on our patient's lives and relationships. By defining how pain impacts these areas, we are able to more effectively direct treatment to improving the lives of patients with chronic pain.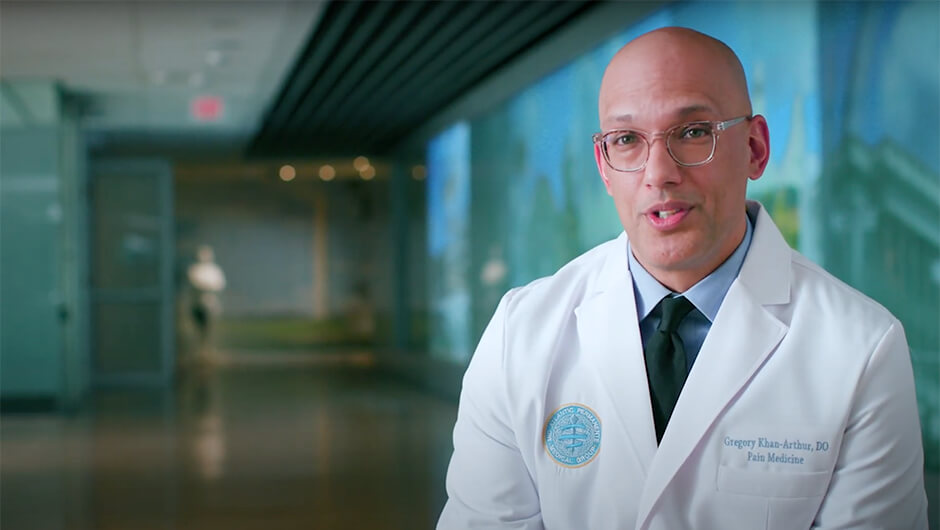 Meet Gregory Khan-Arthur, DO, a pain specialist, and hear more about how Kaiser Permanente helps patients overcome chronic pain to live a better life.
Better treatments
To help patients manage chronic conditions and lead full and rewarding lives, we offer cutting-edge treatment plans, innovative programs, and online classes that draw on the expertise of a wide range of specialists. Our experts include cardiologists, endocrinologists, and pain specialists who all have access to your medical record to help develop the best care plan for you and your condition.
Classes and health information
We encourage all Kaiser Permanente members to have an account on our website, kp.org, where they will find the latest health resources, access to their medical record to see their current medications, appointment information, test results, and helpful tools, including classes they can access to help them with their chronic conditions.
Care Management Program

Through our Care Management Program (CMP), a dedicated group of nurses and nurse practitioners reach out to patients with poorly controlled diabetes (A1C above 8 or 8.5) every couple of weeks to follow up on their blood sugar levels. In addition, patients in this cutting-edge program receive the information and technology they need to check their blood sugar levels at home and upload the results so our nurses can review them. If needed, the nurses can adjust a patient's insulin (if a physician has given orders that allow them to do so). The nurses also talk with the patients, answer questions, give them additional information, and provide social support. By using remote data monitoring to track their blood sugar levels and other important health data, patients in our CMP can have the peace of mind that they are meeting their health goals without having to leave the comfort of their own homes for an office visit.
Clinical pharmacists

Our clinical pharmacists work directly with diabetic patients, particularly patients who have difficultly managing insulin. The pharmacists also act as a resource for physicians who reach out to them to find the best medication for specific patients. The pharmacists contact patients directly to make sure they are picking up their medications and using them properly.
Lifestyle medicine clinics (available in English and Spanish)
Our lifestyle medicine clinics focus on obesity and are run by a team of obesity-certified physicians. They see overweight and obese patients with a BMI above 30 who have conditions such as diabetes, hypertension, or fatty liver, and work with them for several months. If medication is appropriate for a patient, a physician will prescribe it and work alongside a nutritionist with the patient. Classes, both in person and virtual, that focus on nutrition, information about diabetes, medications and the importance of physical activity are available to these patients.
InStep with diabetes (available in English and Spanish)
These in-person classes are run by nutritionists who teach people with diabetes skills for healthy living including information about nutrition and food choices, the importance of physical activity, testing their blood sugar, and overall recommended care. They also provide emotional support to patients who may be having difficulty adjusting to a new lifestyle or controlling their diabetes.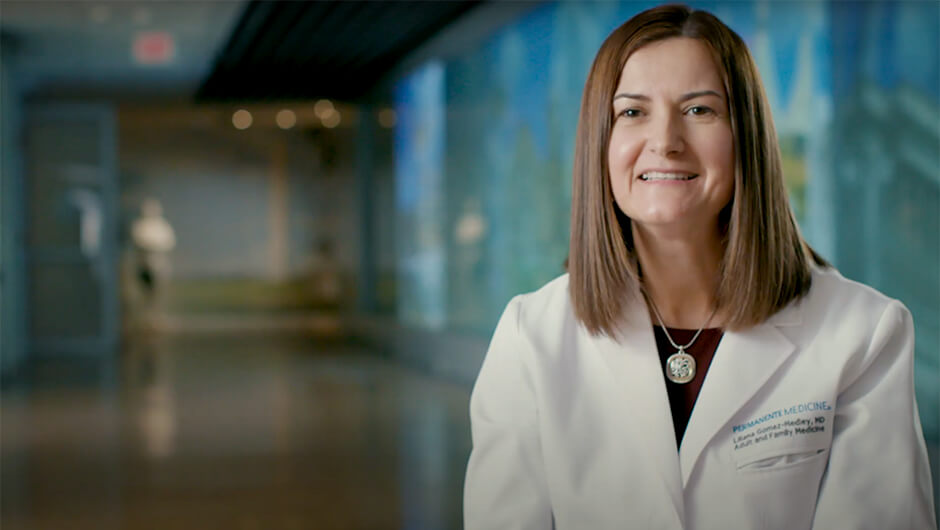 Meet Liliana Gomez-Medley, MD, a family medicine physician, and find out how Kaiser Permanente's coordinated approach to care helps control patients' diabetes.
Patients can easily track their blood pressure
Remote data monitoring for high blood pressure: Patients who qualify for this program, which includes those with uncontrolled hypertension who have a Bluetooth enabled smartphone, internet access, and an account on kp.org, are given a blood pressure cuff that they can take home. When patients check their blood pressure, the data is uploaded and monitored through our Care Management Program.
Drop-in blood pressure checks: Patients can visit any of our medical centers to have a clinical assistant check their blood pressure without having to make an appointment with a physician. If their blood pressure is not normal, the clinical assistant will notify a physician.
Healthy lifestyle programs
Some people require medication to control their blood pressure, but many are able to manage it through lifestyles changes: better nutrition, increased physical activity, quitting smoking, and reducing stress. Our free online programs can guide patients to reach their health and wellness goals.
Comprehensive Common Pain Management Program
Our experts in pain medicine developed the Comprehensive Common Pain Management Program (CCPMP) to take care of people who appear to be at high risk because of their pain management, for example, people on high doses of chronic opioid therapy (over 90 mg of morphine on a daily basis). This interdisciplinary program is staffed by a range of professionals, including pain specialists/pain physicians, clinical psychologists, clinical pharmacists, and a nurse navigator who acts as a case manager.
When patients come into the program, our team does a comprehensive initial evaluation and assesses them for all kinds of risk factors. We take into consideration not only how much and what type of pain medication they take, but how long they've been on the medications and whether they are suffering from depression or have a history of anxiety disorders or substance abuse disorders. Our specialists look at each patient's overall physical health, but also where they live, what they eat, what their financial situation is like, what kind of social supports they have, and what their family life is like.
In developing a treatment plan, we also consider psychological aspects such as how patients are coping with the chronic pain and how much is it interfering with their lives. Unlike other chronic pain management programs, we try to shift the focus from treating the pain as a symptom or as a result of their condition, to what the pain is interfering with in their lives and use that as a target to make those things better. This approach often gives these patients a better experience and leads to more fruitful lives.
In many cases, we help to de-escalate or get people to reduce their dosage and stop taking high-dose opiates, which are often causing the patient problems.
Mindfulness practices and meditation
Our team uses mindfulness practices and meditation, along with pain education, in our approach to managing chronic pain. This approach has had a profound impact on patients' quality of life and improved their self-efficacy and chronic pain over time.
Multimodal analgesia
The pain signaling and processing system in the human body is a very complicated event — opioids only attack one piece of that process. At Kaiser Permanente, we have adopted multimodal analgesia or "balanced analgesia," a cutting-edge process of combining different medicines that attack different parts of that pathway strategically. Used together, these medications are often much more effective than any one of the medicines on its own, which allows our physicians to reduce the dosages by using them in combination.
Better outcomes
Aided by primary care physicians, endocrinologists, cardiologists, pain psychologists, clinical pharmacists, obesity experts, wellness coaches, pain specialists, and others, our holistic approach to treating chronic conditions has allowed our patients to thrive while learning to manage and improve their overall health.
Diabetes Prevention Program success
Participants achieved an average 7% weight loss, exceeding the CDC's goal of 5%.
Member participation
267 pre-diabetics and diabetics are currently participating in the Diabetes Prevention Program, lnStep Program, and lifestyle programs.
Highly rated care
The National Committee for Quality Assurance (NCQA) rated us 5 out of 5 in both controlling glucose levels and controlling blood pressure for diabetic patients.3
Our commercial health plan is rated 5 out of 5 for controlling blood pressure among eligible members.3
Region's leading health system substantiation:
In the survey Best Health Insurance Companies for 2021 by Insure.com, Kaiser Permanente as a national enterprise is rated #1 overall among 15 companies. In the NCQA Commercial Health Plan Ratings 2021, our commercial plan is rated 5 out of 5, the highest rating in MD, VA, and DC. The 2019 Commission on Cancer, a program of the American College of Surgeons, granted Three-Year Accreditation with Commendation to the Kaiser Permanente cancer care program. The Mid-Atlantic Permanente Medical Group is the largest multispecialty medical group in the Washington, DC, and Baltimore areas and exclusively treats Kaiser Permanente members. Permanente doctors are recognized as Top Doctors in Northern Virginia Magazine (2022), Washingtonian magazine (2021), and Baltimore magazine (2021). According to NCQA's Quality Compass® 2021, we're rated 5 out of 5 in 29 measures, including: controlling blood pressure (heart disease), blood pressure control (140/90) (diabetes), glucose control, colorectal screening, breast cancer screening, cervical cancer screening, childhood immunizations, prenatal check-ups, and postpartum care. Quality Compass is a registered trademark of the NCQA.
If you travel out of state, phone appointments and video visits may not be available due to state laws that may prevent doctors and health care providers from providing care across state lines. Laws differ by state.
https://healthy.kaiserpermanente.org/oregon-washington/health-wellness/health-encyclopedia/he.type-2-diabetes-screening-for-adults.zj1182
NCQA Commercial Health Plan Ratings 2021.