Brightest minds
When you choose a physician at Kaiser Permanente, you can be sure that we've already reviewed and confirmed his or her credentials.
When you search for the best of anything, you don't begin with a field of thousands. You start with a set of trusted, high-quality options, often verified by third parties.
That's what you get with the Mid-Atlantic Permanente Medical Group, P.C., the independent medical group whose doctors exclusively serve Kaiser Permanente members. They are a group of physicians whose credentials, education, and training are reviewed, and who are trained on communicating with their patients and practicing evidence-based medicine.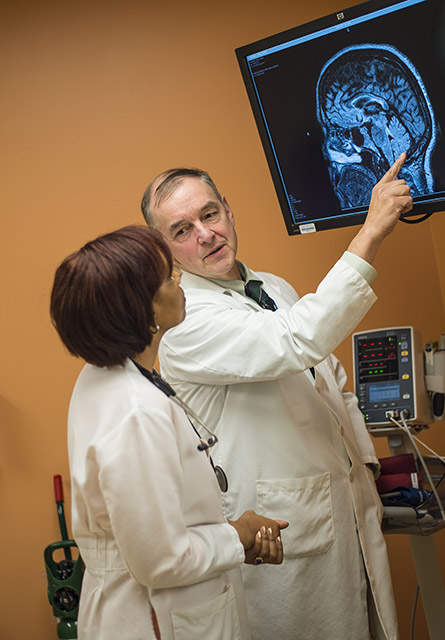 Before any physician is hired at the Mid-Atlantic Permanente Medical Group, he or she must first undergo a rigorous screening process. Physicians are board certified or have to earn board certification within a limited period of time after joining the medical group. This means they have had additional training in their specialty and successfully completed a medical specialty exam. Their performance is then constantly monitored and evaluated. From patient satisfaction surveys to clinical quality, that data informs who stays, who receives support and training, and who is asked to leave the group. In addition, all physicians go through a review process every two to three years to verify that their credentials, including license and board certification, are up-to-date.
The Mid-Atlantic Permanente Medical Group has become an employer of choice for top-notch physicians. It offers a system of prevention in health care, a coordinated approach to disease management, all the expertise needed to tackle complex, high-acuity care, and an invaluable contribution to medical advancement through research.
Meet a few of our Chronic Care doctors
Because any diagnosis can be overwhelming, we strive to get our patients into a coordinated treatment plan the whole team agrees on as quickly as possible.
We believe care cannot happen in silos — and requires providers working collaboratively to solve complex problems and tackle diagnoses from all sides. Every day, our surgeons, primary care physicians, specialists, radiologists, and more work as teams to review, assess, and develop improved preventive screening pathways and treatment options that go above and beyond traditional approaches to treat various conditions.
Many of our doctors have extensive training beyond their medical residency. For example, we have radiologists fellowship-trained in abdominal and breast imaging, and fellowship-trained interventional radiologists who offer cutting-edge, minimally invasive procedures to treat select cancers. We also have maternal fetal medicine physicians that specialize in treating women with high risk pregnancies. Cardiologists and interventional cardiologists trained in cutting-edge procedures that minimize the length of hospital stays. We also employ experts in both medical genetics and genetic counseling who help assess and interpret the right tests to identify at-risk patients and which treatments may be most effective for each individual.
Because doctors at Kaiser Permanente are not paid based on volume of treatments (which is the structure for most physicians outside of Kaiser Permanente), they can take the time to listen to their patients' needs and understand what's important to them, which shapes the right care plan. In fact, our physicians view each conversation with their patients as an important opportunity for greater understanding, compassion, and support.
At Kaiser Permanente, the patient is at the center, always involved with their doctor to make decisions in their care and treatment.